Registration for Yard Trees is Open for Spring 2020!
UPDATE: Registration is closed for spring 2020 tree distributions. To stay informed of future opportunities follow @TreePhilly on Facebook, Instagram and Twitter and sign up for our newsletter!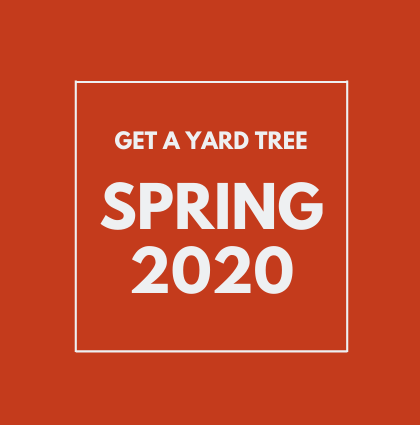 This spring TreePhilly is giving away a limited number of trees for Philadelphia residents to plant in their yards! We are hosting two contact-free pick-up events as well as a delivery program for residents in high-risk populations and those unable to pick up a tree in their car. Registration is open through May 17. Pick-up events will take place on Saturday, May 23, and Sunday, May 24, and trees will be delivered from May 25 through 29. Trees are available while supplies last and pre-registration is required. Scroll down to view pick-up events and times!
Tree pick-up events and deliveries will be executed with strict adherence to social distancing guidelines in order to protect against the spread of COVID-19. To receive a tree, you MUST pre-register for an event. Trees will NOT be available to walk-ins.
How to Register for a Tree!
Use our
Registration Form
to sign up for a tree. In the form, you will select a pick-up event or delivery. If you select a pick-up event, you will need to sign up for a 30-minute window within the event time to pick up your tree. To receive your tree, you must arrive to pick up your tree within the 30-minute window you sign up for. Your tree will only be available during that 30 minute window, and late or early arrivals will not receive a tree. You will be expected to load your tree into your own vehicle. This will help us maintain proper social-distancing and will help keep everyone safe and healthy. After you select your time window, you will be able to choose your tree species! After you sign up for your tree, you will receive detailed instructions on how you will get your tree.
Reminder: All trees from TreePhilly must be planted in the ground on private property in Philadelphia.
Partner Giveaway
TreePhilly is also partnering with
Tookany/Tacony-Frankford Watershed Partnership
to deliver trees to residents of 19111, 19120, 19124, 19134, 19140, and 19149 zip codes. If you are in these zip codes, use
this form
. Registration for this opportunity ends May 19th.
Choose the Right Tree for You
Need help deciding which tree is right for your yard or want information on caring for your tree?
Review the tree species offered this season to learn more about the trees' sizes, sunlight needs, and levels of maintenance! Still not sure? Take our
Tree Quiz
. Check out our
Yard Tree Planting and Care Page
to learn more about caring for your trees!
Need Help Planting a Tree?
If you have limited mobility and cannot pick up and plant your tree, we offer a free delivery and planting service.
Access our Limited Mobility Application
, OR send us an email at
treephilly@phila.gov
or leave us a voicemail at
215-683-0217
with your name and address and we will mail you a paper application.
PICK-UP EVENTS
Date:
Saturday, May 23rd
Location:
Frankford Boat Launch, 5501 Tacony St, Philadelphia, PA 19137
Time:
10:30am-1:00pm
Registration:
View Form
. Registration closes May 17th.

Date:
Sunday, May 24th
Location:
Carousel House, 4300 Avenue of the Republic, Philadelphia, PA 19131
Time:
10:30am-1:00pm
Registration:
View Form
. Registration closes May 17th.
DELIVERY
Registration:
View Form
. Registration closes May 17th.
Deliver Timing:
Deliveries will take place May 25th-May 29th. After registration closes on May 17th, TreePhilly will email you information about the exact delivery date.
Note:
Delivery is reserved for residents in high-risk populations and those unable to pick up a tree in their car. If you are not in one of these groups, we ask that you select a pick-up event instead.
We hope all who are interested in a yard tree are able to receive one, but in the case that registration fills, we appreciate your understanding and we hope to serve you when we expand our programming next giveaway season.