Thanks to all of you, we gave away 1,500 free yard trees to over 800 Philadelphians this spring! The demand for trees this spring was unprecedented, proving that Philadelphians are more informed about the benefits of urban trees and more excited about making Philly the City of Arborly Love than ever. We're already working hard to meet that demand and plan our Fall 2014 giveaways, which will be announced later this summer. Stay tuned for details!
Click here to check out
pictures from our spring giveaways
by Philly photographer Charles Bouril! To share photos of your TreePhilly yard tree in its new home, send photos to
treephilly@phila.gov
or post on
Facebook
,
Instagram
, or
Twitter
 and tag us @TreePhilly.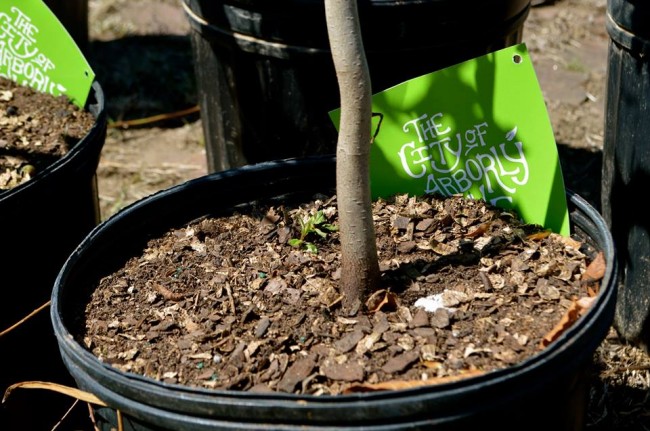 And click here to watch a great video created by
Philadelphia Neighborhoods
at our West Oak Lane Library giveaway on Sunday, April 6.
Tree Huggers
And finally, check out these wonderful comments from some of our spring 2014 yard tree recipients. Click here to
share your own tree story with us
. "My tree helps me to
teach my kids a beautiful story
about our city and neighborhood." "The PhillyTree that we received we 
donated to my church
which is in Philadelphia. With very young children in its pre-school, these children will be able to witness growth, beauty, and appreciate the wonders of nature. They too may be
inspired to become tree huggers
." "I love my tree.
I talk to him every day
and encourage him to grow." "
I am so grateful
for the opportunity you have given us to have a Tree in our backyard. I look forward to
the beauty it will bring
and hope that one day my boys will climb in it. I am grateful that you are helping to
green our city
and bring trees into the lives of all residents!" My tree "signifies
the roots I am making
in my new (first) home." "I named my tree Figgy Stardust!! (She's a fig tree.) I love my new tree. It also
inspired me to start a shared garden
with my neighbors from our duplex. Really exciting!" "I love trees, but can't afford to buy any, so this is an excellent program and opportunity for me,thank you so very much! 
I wish my yard could be a little forest
! I am very blessed!" "We planted our tree in our new back yard on the day that we closed on our house.
It was our first act as home owners
, and our first improvement to our new property.
Our two year old daughter helped us plant the tree
, and helps us water it and care for it. We hope it will live in our yard at least as long as we live in the house!" "Planting a fig tree in my back yard
made me feel connected to my Philadelphia heritage
as the descendant of immigrants to Philadelphia. Although, my ancestors weren't the ones to carry figs across the ocean, it still felt like a local tradition."