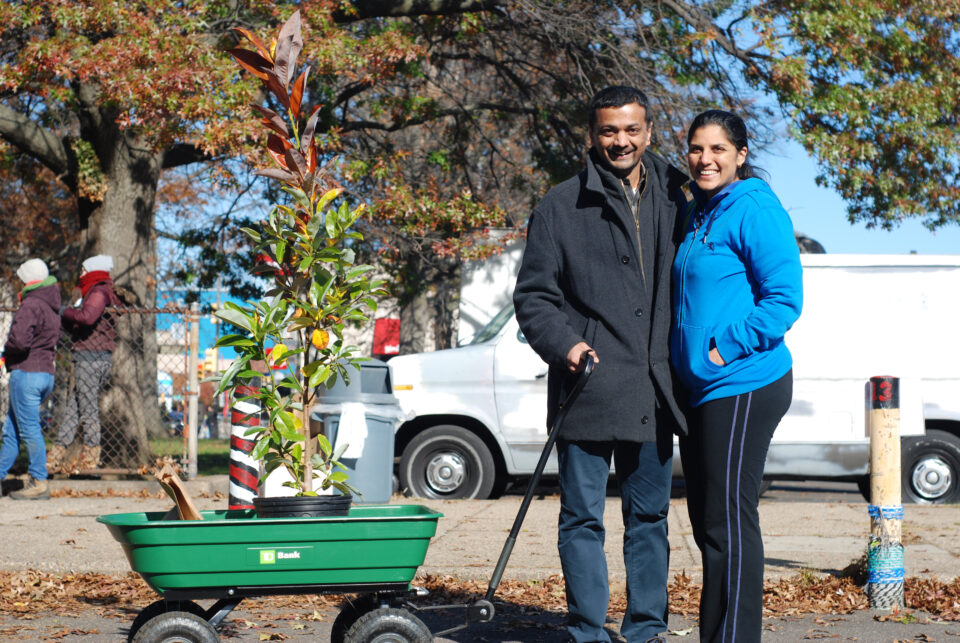 What is the Community Yard Tree Giveaway Program?
The Community Yard Tree Giveaway program empowers Philadelphia community groups to host free yard tree giveaways in their neighborhoods. Through this program, groups can partner with TreePhilly to help green their neighborhood by distributing trees to neighbors, friends, and families. TreePhilly provides FREE trees, event support, mulch, education, and a $200-500 grant award. Partners are responsible for hosting and promoting the event and connecting with their community.

This season we are offering up to 20 grants to community groups to host yard tree giveaways in their neighborhoods between September 23rd and November 8th 2019. For information on previous events, check out Community Yard Tree Giveaways. For photos, check out our Flickr page. Read more about the Community Yard Tree Giveaway Grant below.

The deadline to submit applications for Fall 2019 Community Yard Tree Giveaway Grants is Wednesday, August 28th, 2019. Winners will be announced on Friday, August 30th, 2019.

Scroll down to learn more or download the Fall 2019 TreePhilly Community Yard Tree Giveaway Grant Application here.

Grants Provide:
• 25, 50, 75, or 100 yard trees in 5 gallon containers (first time applicants are only eligible for 25 or 50 trees)
• An award of $200 for a 25 tree event, $300 for a 50 tree event, $400 for a 75 tree event, or $500 for a 100 tree event upon successful completion of event and submission of deliverables*
• Mulch and paper bags for each participant
• Tree and mulch delivery to giveaway location
• Event planning support
• Expert tree knowledge, resources, and advice
• Training workshop for event organizers
• Educational materials and tree tags
• TreePhilly staff members at the event to provide planting demonstrations and event support

Guidelines:
• Trees given away must be planted in Philadelphia.
• Trees given away must be planted in the ground on private property.
• Trees CANNOT be planted in the sidewalk or in containers.
• Tree recipients must commit to watering, mulching, and caring for their trees.

Community Group Requirements
• Applicants must serve a Philadelphia community— Nonprofits, faith-based organizations, civic associations, CDCs, Tree Tenders groups, local businesses, school associations, and similar organizations.
• We accept applications authored by multiple groups. If more than one group is applying, no more than three groups may be listed on the application. If you applying with multiple groups please designate:


One 501(c)(3) group to act as fiscal sponsor and receive the monetary award.
One group to act as the lead organization for executing giveaway responsibilities.
• Groups must have the staff or volunteer capacity to plan, promote, and run an event. At least 3 volunteers/staff are recommended.

Event Requirements
• Giveaway events must be held in Philadelphia.
• Giveaways must be held between September 23rd and November 8th 2019. Events may not be scheduled for Monday, October 14th or Saturday, October 26th.
• Giveaway events must include space for planting demonstrations facilitated by TreePhilly staff.


Space could be: a yard, parking lot, large sidewalk, patio, or playground.
• Giveaway events must include nearby bathroom access for volunteers and staff.
• Giveaway events must include a contingency plan in case of inclement weather. Giveaway events may not be canceled day of for non-emergency inclement weather


Examples: if it rains, we will move the event to our indoor space or put up a tent.
• Tree giveaway events should last for 2 hours. Partners may propose an alternate timing if the event corresponds with another event like spring festival or local job fair.

Grant Recipients are Responsible For:
• Participating in a Community Partner Essentials Workshop (required) on Thursday, September 12 from 6:30pm-8pm.
• Designating a primary contact who can attend training and events and oversee the grant, and an alternate contact who will take over in case of emergency
• Securing an event space that includes:


Secure location to store trees before and after the event
Accommodations for inclement weather (eg. indoor space, tent)
ADA-compliant access for participants
Bathroom access for staff and volunteers
• Planning the giveaway event: securing a space, organizing volunteers, and handling day-of logistics.
• Promoting the giveaway event
• Registering residents for tree species using a required spreadsheet template
• Organizing at least 3 volunteers/staff to run event.
• All other giveaway materials and supplies, including tables, chairs, pens, registration sheets, etc.
• Submitting final deliverables:
1) Typed list of names, addresses, phone numbers, and email addresses (when available) for tree recipients, via the provided spreadsheet template
2) Sample promotional materials (submitted before promotion begins)
3) Digital photos from the event along with sign-in sheet of attendees releasing photo rights to TreePhilly
4) A ten-question survey administered by TreePhilly
5) Signed W9 with recipient's financial sponsor

*** All deliverables must complete and received before receiving the monetary award.



***Grants are not evaluated on the quantity of trees your group can give away. A 25 tree application has the same standing as a 100 tree application.

*Please note that you may not receive the number of trees you request. All first-time grantees will be awarded 25 or 50 trees, returning grantees are eligible for 75 or 100 trees. Final number of trees awarded will be determined by TreePhilly based on availability and the group's capacity. TreePhilly will select tree species for each grantee. Species are generally native to the area, well suited for urban environments, and may include shade trees, smaller ornamental trees, and/or fruit trees.

*Only not-for-profit organizations are eligible to receive the monetary award. Other organizations are invited to apply with a not-for-profit fiscal sponsor.