TreePhilly is a public-private partnership with the Philadelphia Parks and Recreation, the Fairmount Park Conservancy, and TD Bank. Together, we strive to beautify our city streets and improve our communities one tree at a time.

Philadelphia Parks & Recreation
Philadelphia Parks & Recreation (PPR) advances the prosperity of the city and the progress of her people through intentional and sustained stewardship of public land and waterways as well as through safe, stimulating recreation, environmental and cultural centers. PPR helps Philadelphia's children and other residents grow by connecting them to the natural world, to each other, and to fun, physical and social opportunities.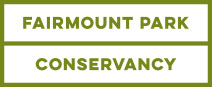 Fairmount Park Conservancy
The Fairmount Park Conservancy (FPC) is the nonprofit champion of Philadelphia Parks & Recreation's Fairmount Park system. FPC works as a collaborative partner to lead and support efforts that preserve and improve neighborhood parks, playgrounds, and recreation centers, and to enhance the quality of life and stimulate the economic development of the Greater Philadelphia Region. The Conservancy fulfills its mission by leading signature capital projects and innovative programs throughout Fairmount Park; by developing and leveraging resources for the park; and by promoting the parks' unique assets and contributions.